Pentohouse La Maddalena (Sardegna) in small house with six apartments (via del lentischio 90mq)
Other photos of the pewnthouse febraury 2012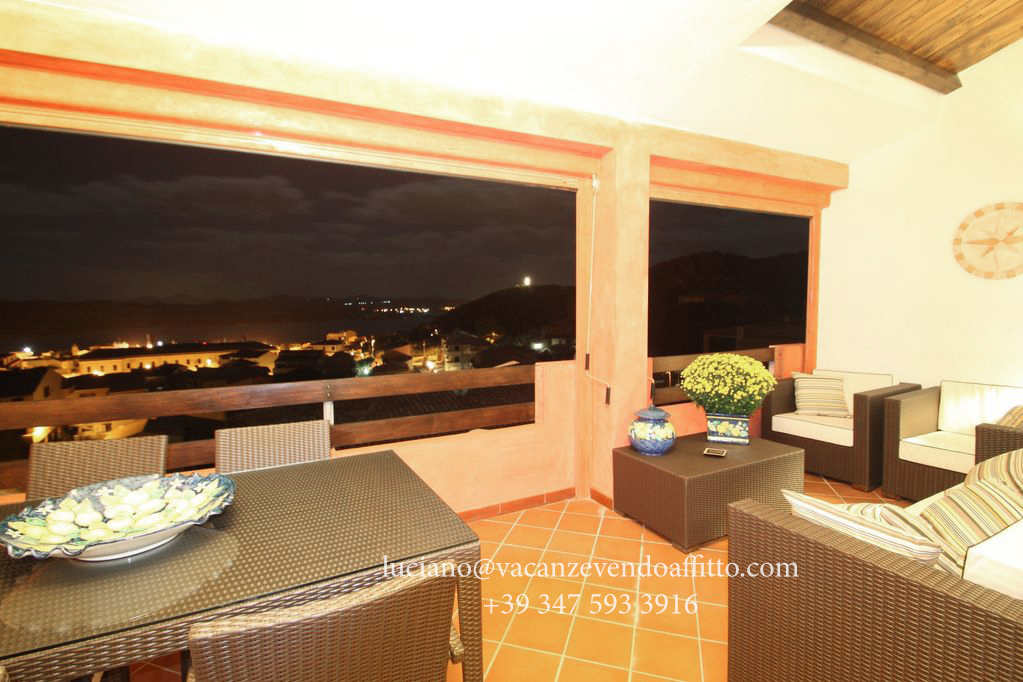 In the archipelago of Maddalena in the top of the square of Cala port ranks Panoramic penthouse in small building with six apartments Via Del Lentischio scale b, 95 square meters Sleeps 6 +1 strong>
-Conditioned rooms also having no need given the position.
-Garage for two / three cars.
-Covered terrace with breathtaking views with curtains pvc transparent retractable locking front, super equipped, and you can see all the islands of the archipelago.
-Terrace with sofas, armchairs and table and chairs for 6/8 people
-Kitchen, 4 burner stove, fridge, freezer, oven, lavastovilie.
-Master bedroom with private bathroom and balcony LED TV.
-Double room with possibility of 4 beds already in place and access to the terrace.
-Living room with a small table and divono, bathroom tv led.
NB Very new and furnished and equipped with taste almost never used.
RENT:
WEEKLY RENTAL PRICE COMPARED TO MONTHS ( INCLUDED: strong>
WEEKLY CHANGE CLOTHES, BED AND CHAIR FOR BAMBI, ARRIVAL AND DEPARTURE FROM CLEANING, WATER, ELECTRICITY, GAS.
ARRIVAL: Saturday at 12.00 (unless otherwise agreed) strong>
DEPARTURE: Saturday after 10.00 am (unless otherwise agreed) strong>
During the period from September to March you can arrive any day of the week. strong>
[Button link = "# http://www.homelidays.it/la-maddalena/appartamento-450741it1.htm#AnchorDispo"] PRICES AND AVAILABILITY [/ button]
Quick contact: a>
[Button link = "/? Page_id = 510"] View photos of the beaches [/ button]
With seasonal homes for lease from San MARS Construction Ltd: strong> p>
A deposit of 30% must be paid at time of booking and the final balance of the amount due must be paid at the time of taking possession of the attic. strong> 'content will be a deposit . strong>

Visualizza Rent penthouse apartment La Maddalena a> in a larger map small>